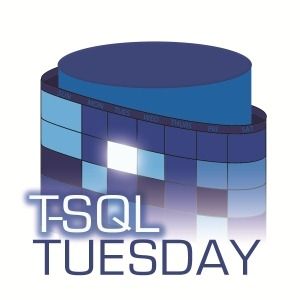 Well, this is my first T-SQL Tuesday! Here's the original post: link. I'm very excited to participate. The host for this month is Ewald Cress (blog | twitter ) and the subject is talking about people who've made a difference. I've been working with SQL Server for a few years and I have many people to be grateful for! I thought I'd start by sharing the story that I use in my presentation, Reading Execution Plans Successfully.
My first SQL job was a Junior BI Developer, right out of college. I was learning from Treye Nekola , a Sr Database Administrator. At the time, I could write a SELECT statement, but I had trouble with JOINs and WHERE clauses. Sometimes my queries would run for minutes a time, even with NOLOCK hints they were taking a while. Treye had the wisdom to call me out on it, and I said something very foolish. I said, "I don't care how long my query takes as long as it gets results." Treye just looked at me, knowing how stupid that sounded. I let it go, because I was embarrassed. He was right, and my queries needed work. Over the next months, Treye showed me why my queries were poorly written, and with a godly amount of patience, he set me on the right path. I will forever be grateful to Treye for being an awesome mentor and friend!
The next person I'd like to appreciate is Brent Ozar. I doubt Brent knows much about me, but his material and training has seriously improved my skills. Treye showed me his blog, and I started to learn about the SQL Server online resources. Brent's also the person who inspired me to start presenting. At PASS Summit 2016, Brent had a session titled 500-Level Guide to Career Internals. At this session, Brent encouraged the audience to start blogging and speaking. I haven't blogged as much as I should, but I did take his advice on speaking. It has seriously improved my life to speak because I get to teach people and meet tons of really excellent people in the database world. It is so rewarding to teach people a new skill or fact.
And finally, I appreciate Andy Yun. I think I first met Andy at SQL Saturday Iowa City. We were both speakers and spent time talking in the speaker room. We parted ways for a while, but Andy mentioned he was planning on making a trip to the Iowa SQL user groups so I was sure to see him again. We met up before his presentation in Des Moines, Iowa, where I told him that I was taking a job in Illinois, and I was looking for advice. By sheer luck, it was the exact same city that Andy was living in! I had no idea he lived in the exact same suburb as I was headed to. Since that day, Andy has been a close friend and mentor to me. I'm incredibly grateful for the guidance and help he's given me, in life and career. I say without hesitation that Andy has made a massive difference in my life.
I would like to make some honorable mentions to some people I couldn't fit in this post, and I'm sure there's many more that I couldn't fit in this post.
Thank you for being great people:
Fred Botts (leader of the Des Moines SQL Server User Group)